Chambers and Partners, one of the world's leading law firm rankings agencies, has released the 2020 edition of its guide to the best law firms in the Asia-Pacific region. Tilleke & Gibbins is a perennial presence in the rankings and has again garnered recognition as one of the region's leading law firms, ranked across all of our offices and a wide range of practice areas.
In Thailand, Tilleke & Gibbins received rankings in Corporate/M&A, Dispute Resolution, Intellectual Property (IP), Real Estate, Tax, and TMT. These included a Band 1 ranking for the IP practice, about which Chambers wrote that Tilleke & Gibbins is a "market-leading firm with a highly experienced team." Also highlighted in the editorial section was a client comment that the firm is "a one-stop centre for all IP services, either local or worldwide."
The firm's Vietnam office also received a Band 1 ranking in IP and pulled in an additional Band 1 ranking in Technology, Media, and Telecommunications. Tilleke & Gibbins' Corporate/M&A practice was also ranked among the country's best.
In the smaller jurisdictions of Cambodia, Laos, and Myanmar, firms are ranked in a single category—General Business Law—and Tilleke & Gibbins' offices placed well in all of these emerging markets. The firm's boutique IP practice in Indonesia was also recognized for its outstanding patent, trademark, and other IP-related work.
Chambers also ranks the leading individual practitioners in each jurisdiction, and the 15 individual rankings received by the firm's lawyers in the 2020 edition include new rankings for Jay Cohen, partner and director of the firm's Cambodia office, and Suebsiri Taweepon, partner in the Tilleke & Gibbins IP practice. The full list of individual rankings earned by Tilleke & Gibbins lawyers is below.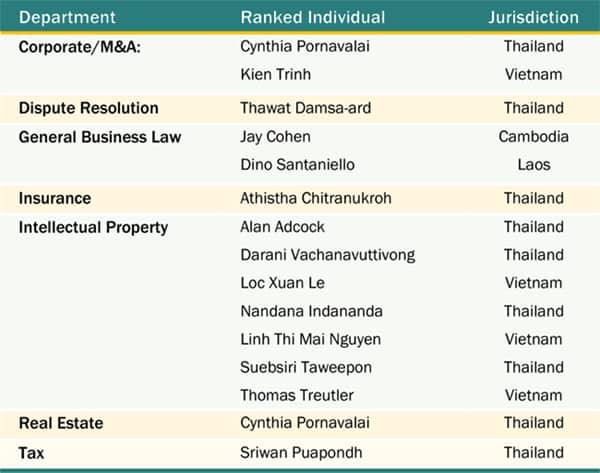 The Chambers Asia-Pacific rankings, based on in-depth market research including input from our clients and other legal practitioners, are a reference guide to the top law firms and legal professionals across the Asia-Pacific region. More information on the rankings can be found on the the Chambers website.