On Friday August 30, 2019, a Notification of the Thai Ministry of Public Health ("MOPH Notification") was published in the Government Gazette. The MOPH Notification went into effect on August 31, 2019, one day after its publication.
This MOPH Notification outlines another Thai Government initiative in connection with the free cannabis policy, this time carving out further aspects of marijuana and hemp use from the stringent regulations under the Narcotics Act.
Marijuana is described in the MOPH Notification as plants of the cannabis genus, including all parts of a marijuana plant and the substances or chemicals found in a marijuana plant. Hemp is defined as plants falling within Cannabis sativa L. Subsp. sativa, including all parts of a hemp plant.
In fact, marijuana and hemp are not entirely "delisted" from the classification of Category 5 Narcotics as identified in the Narcotics Act. While these plants are still listed as Narcotics, the MOPH Notification serves to prescribe "exceptions", meaning aspects and particulars of marijuana and hemp related products that are not considered Narcotics.
The new exceptions are summarized below.
For both marijuana and hemp
(1) Marijuana or hemp stalks, stem cores, and fibers are excepted, if dried. The products made of such dry parts are excepted, as well.
(2) Cannabidiol (CBD) extracted from marijuana or hemp is excepted if having at least 99% purity and no more than 0.01 percent by weight of tetrahydrocannabinol (THC).
(3) Extracts of marijuana or hemp having CBD as the main constituent and no more than 0.2% by weight of THC, which are considered "drugs" as per the Drug Act, or Herbal Products as identified in the Herbal Products Act.
For hemp only
(4) Hemp seeds or hemp seed oil, which are considered Food as identified in the Food Act.
(5) Hemp seed oil or hemp seed extracts, which are considered Cosmetics as identified in the Cosmetics Act.
In other words, hemp products according to the above descriptions may now be classified as Medicinal Drugs, Herbal Products, Food, or Cosmetics under their respective regulations. Marijuana may now be classified as Medicinal Drugs or Herbal Products only.
It should be noted that during the first five years under the MOPH Notification of August 30, 2019, the exceptions per (3) – (5) above apply only to domestic production by a licensee under the respective laws. This means the importation of products that would otherwise fall within those exceptions would still be regulated by the Narcotics Act—highlighting the Thai Government's agenda in protecting Thai business operators.
According to the Thai Ministry of Public Health's public conference held on September 2, 2019, the exception per (2) above for high-purity extracts (99% or higher of CBD; 0.01% or lower of THC) are intended to cover laboratory-grade standard extracts. For the (3) – (5) exceptions, the Thai FDA will later issue further rules under the Drug Act, the Herbal Products Act, the Cosmetics Act, or the Food Act to specifically accommodate the use of marijuana and hemp extracts in the respective products.
Moreover, amendments to the previous Industrial Hemp Regulation of 2016 are in the pipeline. The purpose of these amendments are to include non-public entities as parties having standing to apply for industrial hemp licenses.
Abridged Translation of the MOPH Notification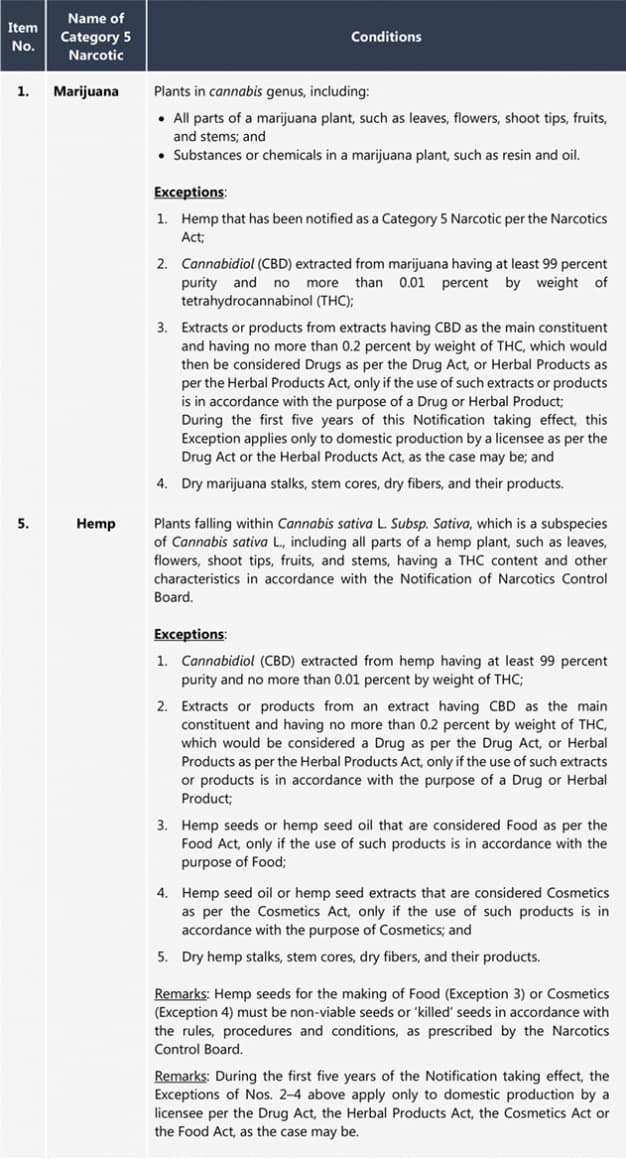 Remarks: The present MOPH Notification (2019) does not affect Items Nos. 2–4 on this list, which were prescribed by the previous MOPH Notification of 2018. Said unaffected items are:
No. 2: Kratom (Mitragyna speciose);
No. 3: Opium poppies (Papaver somniferum L. and Papaver bracteatum Lindl.); and
No. 4: Psilocybin mushrooms.
Details about the above Nos. 2–4 are omitted from this update.