Trade dress, which refers to the visual appearance of a product and packaging, as well as the product's placement at its point-of-sale (store layout), was at the center of an infringement case that recently obtained the highest damages award ever given for a trademark case in Thailand.
Trade dress is an important branding consideration because it can create a commercial impression and enable the public to recognize the original source of goods and services, distinct from other traders. Trade dress comes in many different forms, but only a few of them find solid protection in Thailand, and only through creative use of existing intellectual property protections. For instance, a unique packaging design in the form of an unfolded paper box could be eligible for trademark registration. A distinctive product configuration or external design of a container might be eligible for registration as a three-dimensional trademark, or even as a design patent if it features lines or colors giving a special appearance to a novel product that has an industrial application. In addition, a product's configuration could be subject to copyright protection as a "sculpture work" if it shows a figure with tangible volume.
However, in Thailand, trade dress does not yet receive explicit recognition under the country's Trademark Law—unlike in some other jurisdictions whose trademark laws permit the registration of trade dress. The protection and enforcement of trade dress in the form of "store layout" in particular has been a constant challenge in Thailand, given the lack of explicit laws and precedence. Consequently, brand owners may have a hard time protecting their trade dress in relation to their creative and unique store layout designs, despite a great deal of effort and financial investment.
But now this appears to be changing: In December 2021, Tilleke & Gibbins successfully secured a precedent judgment on the store layout form of trade dress from the Central Intellectual Property and International Trade Court (IP&IT Court).
Precedent Trade Dress Case for Store Layout
The popular Thai bubble-tea chain Fire Tiger is a successful business of Ruay Sabai Sabai Co., Ltd., a Thailand-based food and beverage company. Fire Tiger is a pioneer in the use of eye-catching trade dress in the industry. For use in all Fire Tiger stores, Ruay Sabai Sabai designed a gold-colored sculpture of a tiger's head featuring a wide-open mouth as a product-serving channel as part of a store design that resembles a tiger cage. They also developed Fire Tiger's logos, unique menu designs, and other creative marketing ideas to support their bubble-tea business. These distinctive creations were deployed in Fire Tiger branches and quickly gained consumer recognition and media attention.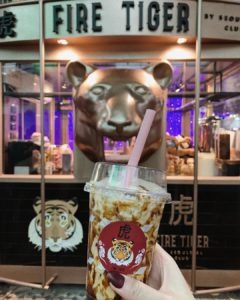 Ruay Sabai Sabai operates over 15 Fire Tiger stores in Thailand and has expanded their franchise business in Southeast Asia, with further outlets soon to open in Europe and North America. Fire Tiger's various marks have been registered in Thailand and overseas, and their tiger-head sculpture has also been recorded with the Copyright Office of the Department of Intellectual Property.
In 2019, Ruay Sabai Sabai became aware of a competing chain of bubble-tea stores using a similar trade name and trademark containing the word "fire" plus the name of another animal. Moreover, the competitor's stores were using a similar gold-colored sculpture of an animal head with an open mouth in a golden cage for their product-serving channel, and the menu designs and marketing ideas also showed similarities to those of Fire Tiger. The competitor expanded rapidly, amassing over 200 franchise licensees throughout Thailand within a short period. Ruay Sabai Sabai's attempts to contact the competitor to resolve the dispute amicably all went ignored, so in view of the damage they sustained, Ruay Sabai Sabai filed a civil lawsuit against the competitor with the IP&IT Court on November 30, 2020.
The litigation process took just over a year, and on December 23, 2021, the IP&IT Court announced its judgment, concluding that the competitor's use of the word "fire" along with an animal name as its store name and in naming its bubble-tea products (in Thai and English languages), beverage cups bearing an animal head in the same position as on Fire Tiger's cups, and an animal-head sculpture with an open mouth as a serving channel could cause the general public to understand that the competitor's bubble-tea stores originated from Fire Tiger, or that the competing bubble-tea products are derived from the same source.
Since the competitor was the same type of business as Fire Tiger, the court believed that the actions noted above would deceive the public into believing that the competitor's goods or business, including the franchise businesses, are associated with Fire Tiger. This constitutes infringement as passing off under the Trademark Act, and the court agreed that the infringement caused damage to Ruay Sabai Sabai.
The IP&IT Court awarded damages of THB 10 million (approximately USD 303,000) with interest to Ruay Sabai Sabai, together with monthly damages of THB 100,000 (approximately USD 3,030) from the filing date of the complaint until the competitor ceases its passing-off actions. The amounts awarded by the IP&IT Court in this case are the highest handed down for a trademark case in Thailand.
Protection of New Types of IP in Thailand
The judgment in the Fire Tiger case confirms that trade dress in the form of store layout can be protected in Thailand. Even in the absence of explicit legislation in the Thai Trademark Act governing trade dress protections in Thailand, the IP&IT Court recognizes the efforts and financial investment of IP owners and is open to interpreting the law in concurrence with international standards by making use of the existing laws offering protection to brand owners. It is hoped that this case will act as a precedent in many more cases, giving IP owners more comprehensive protection over their creative output and investment in their IP assets.
This article first appeared in Managing Intellectual Property.