In light of the COVID-19 pandemic, this year's Annual Employment Law Forum from Tilleke & Gibbins will be offered as a series of webinars, throughout November and December, on the topics that most affect employers in Southeast Asia and the latest legal updates across the region from the past 12 months.
In Thailand, our market-leading labor and employment team will be hosting webinars on November 16, 17, and 18, covering the enforcement of non-competition clauses, compliance with the upcoming Personal Data Protection Act, and common causes of labor disputes and how to handle them.
In addition, our teams in Hanoi, Ho Chi Minh City, Phnom Penh, Vientiane, and Yangon will be presenting English-language webinars on labor and employment law in the CLMV region, including an overview of Vietnam's new labor code, the latest developments from Cambodia, Laos, and Myanmar, and the impact that COVID-19 has had on employment law in those jurisdictions.
A brief overview of the topics covered is provided below.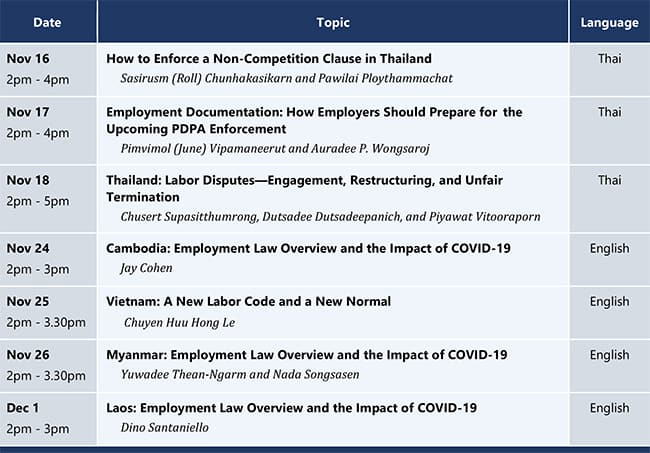 To reserve a seat for one or more of the sessions in the 2020 Annual Employment Law Forum series, please click here.