A new notification from the Thai government will introduce a second phase of reductions to required Social Security Fund (SSF) contribution rates. The new notification will reduce required contributions to 2% of employees' wages, for both employers and employees, for a period of three months.
This was approved by the cabinet on September 1, 2020, in the Ministry of Labour's draft Notification Regarding the Criteria, Methods, and Conditions for the Reduction of Employers' and Insured Persons' Social Security Fund Contributions, during the Coronavirus 2019 (COVID-19) Outbreak. The draft notification is expected to be enacted soon, well in advance of the October 15 deadline for September 2020 contributions.
This follows the ministry's March 2020 notification, which reduced the SSF contribution rate for employees and employers for a three-month period, ending in May 2020. From June onwards, therefore, the original SSF contribution rate of 5% for both employers and employees has been reinstated and will remain in place until this latest notification comes into force.
Key Points of the Draft Notification
Employers and employees under section 33 of the Social Security Act (SSA) are entitled to a reduction in SSF contributions for September to November 2020. The reduced rate is equal to 2% of the employee's wages.
An insured person who is no longer an employee but has registered under section 39 of the SSA is entitled to a reduction in SSF contributions for September to November 2020, during which time their required contributions will be THB 96 per month.
If the remittance exceeds the amount specified in the notification, an employer, employee, or section 39 insured person can submit a request to their relevant Social Security Office to be reimbursed the excess amount.
Contribution Rates Before and During the COVID-19 Outbreak
The table below outlines all changes to the required SSF contribution rate in Thailand that have been implemented during the COVID-19 outbreak so far: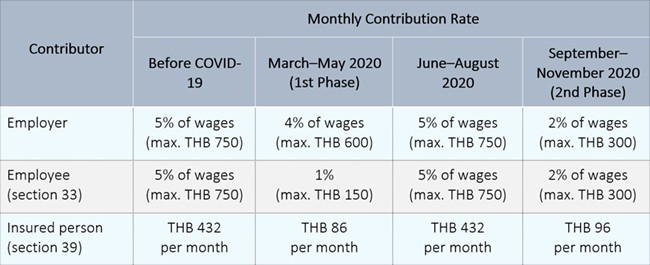 In summary, the first phase of temporary assistance measures for the SSF contribution rate ended in May 2020, after which the original SSF contribution rate was applicable through August 2020. The new cabinet resolution on September 1, 2020, will provide assistance measures to employers, employees, and insured persons once again, albeit at a different rate.
Tilleke & Gibbins will continue to monitor this rapidly evolving situation. For more information on these relief measures, or any other aspect of Thai employment law, please contact Pimvimol (June) Vipamaneerut at j[email protected] or Auradee Wongsaroj at [email protected].