On November 30, 2018, the Vietnamese government issued Decree No. 162/2018/ND-CP on administrative sanctions in civil aviation (Decree 162). Decree 162 amends and supplements Decree No. 147/2013/ND-CP (the Old Decree), and took effect on January 15, 2019.
Key changes in Decree 162 include the following:
1. New Actions that Are Considered Violations
While most of the Old Decree's provisions are preserved, Decree 162 adds new conduct that is subject to fines. The added violations are summarized in the table below.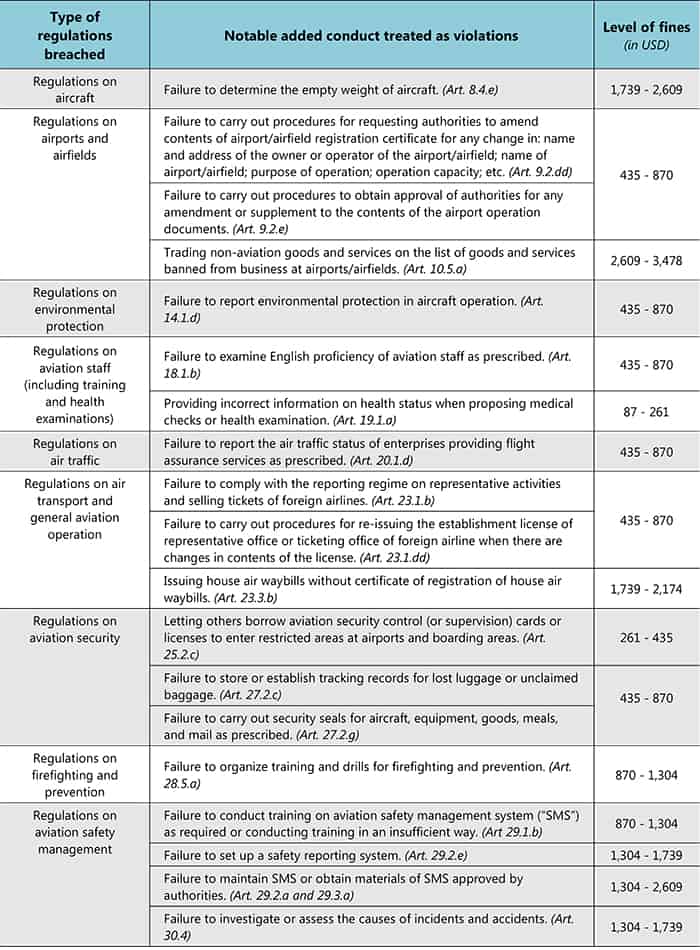 Notes on the table:
– The specified range of fines applies to organizations (e.g., companies). For individuals committing violations, the applied sanction is half the amount imposed on organizations (except for exceptions stated in Article 3.1 of Decree 162).
– Sanctions are listed in VND and converted to USD at the exchange rate of USD 1 = VND 23,000.
2. New Remedial Measures
In addition to amending and supplementing the monetary fines, Decree 162 adds new remedial measures. The new remedial measures aim to address both violations previously provided in the Old Decree and newly added violations in Decree 162. The new remedial measures, which may be applied in cases such as falsifying health examination results, failing to maintain aviation buildings according to an approved plan, or failing to establish aircraft maintenance records as prescribed, include the following:
Compulsory return of land which has been encroached upon or occupied, or compulsory return of premises;
Compulsory building maintenance;
Compulsory organization of re-inspection or retest;
Compulsory rescindment of inspection or test results;
Compulsory revocation of granted certificates of practice;
Compulsory rescindment of health examination results;
Compulsory return of illegally obtained profits;
Compulsory maintenance and documentation of aircraft maintenance.
3. Change in Entity Subject to Sanctions
The fines specified in Decree 162 are directly applied to organizations instead of individuals (as under the Old Decree). Thus, based on the provisions of Decree 162, administrative sanctions in civil aviation seem to directly and primarily govern organizational operations.
In light of the changes in Decree 162, air operators, MROs, ticketing agencies, and others in the aviation industry should assess their practices and ensure they are in compliance with the law.