On December 20, 2022, Thailand's cabinet approved draft legislation providing further Land and Building Tax reductions of 15% in 2023, on top of current reductions in tax rates, on some types of taxable property. When enacted, the legislation will provide further tax reductions only for the property types in the table below.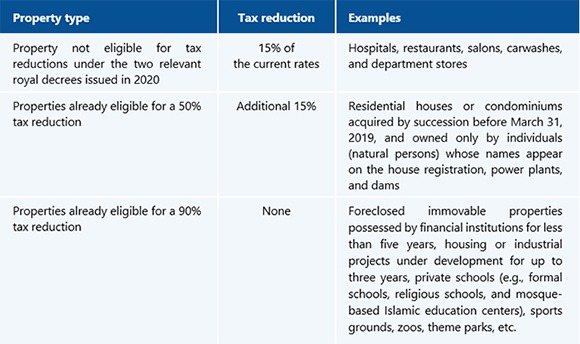 Moreover, in early December, Thailand's Ministry of Interior promulgated an announcement extending the deadline for tax assessment notification and tax payment (including by scheduled installments) by another two months from the previous statutory deadline of December 20, 2022. The key deadline extensions are shown in the table below.

The Land and Building Tax is a property tax collected annually, with rates varying based on the purpose of use—agricultural, commercial, industrial, or residential. Owners or possessors of land or buildings are liable for Land and Building Tax, which is computed based on the officially appraised value of the property.
For more information on Thailand's Land and Building Tax, please contact Auaychai Sukawong at [email protected] or Chaiwat Keratisuthisathorn at [email protected].