On October 26, 2018, the Supervisory Committee for Motor Vehicle Import, a branch of the Ministry of Commerce, released Notification No. 1/2018 in regard to the importation of vehicles in Myanmar in 2019. Under the new legislation (which is largely similar to the 2018 notification that it replaces) only left-hand drive vehicles, or machines that cannot be classified as either right-hand or left-hand drive, will be permitted for importation. In addition, the updated law stresses the importance of importing new vehicles by classifying permitted vehicles based on their year of manufacture.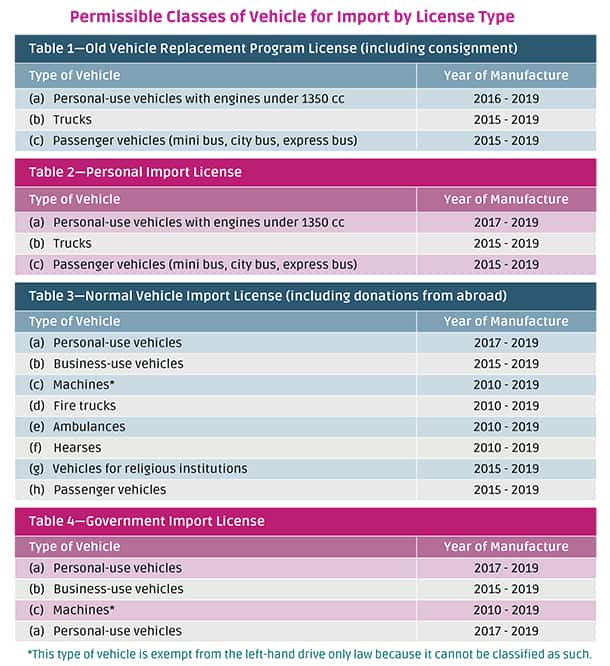 The Notification sets out the following exceptions for permissible vehicle import:
Imports of ambulances and fire trucks that are being donated to the country are permitted only if the vehicle is manufactured in, or after, the year 2007.
Excavators, bulldozers, wheel loaders, vibratory rollers, clamp loaders, motor graders, road-roller compactors, bridge cranes, gantry cranes, tower cranes, pilling machines, crawler drills/cranes, overhead-traveling cranes, mobile cranes, rough-terrain cranes, forklifts, boom lifts, and asphalt finishers that are not going to be driven on public roads, are permitted for importation if the vehicle was manufactured within the last 15 years.
International non-governmental organizations are only allowed to buy from sale centers/showrooms as prescribed above in Table 1 and Table 2.
The new regulations will come into effect in January 2019, and it is important for companies to take note of the revisions and prepare accordingly.
Though often considered unpopular, the mandate to only allow the importation of left-hand drive cars is ultimately in the interest of public safety. As a country that drives on the right, left-hand drive cars are safer and more suitable for the people of Myanmar than right-hand drive cars, and their adoption is for the public benefit.