On March 14, 2023, the Competition Commission of Cambodia (CCC) set out its merger filing thresholds in Decision No. 095 on Thresholds for Prior Notification of Business Mergers. This was a follow-up to the recent issuance of a regulation outlining the requirements and procedures for merger and acquisition filings. Decision No. 095 applies to all business combinations subject to premerger notification requirements under this prior regulation.
The thresholds for when the CCC must be notified of a merger are laid out in the table below.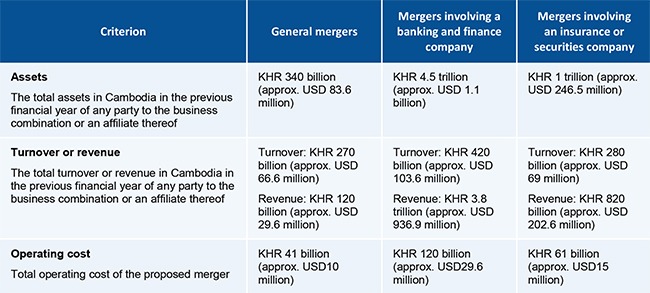 Decision No. 095 leaves room for the Ministry of Commerce to amend these thresholds as deemed necessary.
Outlook
In the last two years, Cambodia has steadily issued regulations to strengthen its legal framework for competition. Although gaps remain, especially with regard to enforcement of fines and certain unclear terms, more regulations are likely in 2023 and 2024.
For more details on competition regulations or the legal framework for corporate transactions in Cambodia, please contact Tilleke & Gibbins at [email protected].