The Bank of Thailand (BOT) has amended foreign exchange (FX) controls, as part of its roadmap toward a "new Thai FX ecosystem," to further relax limitations and restrictions on outbound investments remitted by investors in Thailand. This latest move follows a prior relaxation of foreign trading and exchange regulations in November 2019.
The new developments primarily relate to the thresholds for outbound investment, types of foreign investment products that investors may participate in, and foreign currency deposit accounts. These are detailed below.
Outbound Investment Thresholds
The new measures ease the individual and group limits for outbound investment as shown in the table below.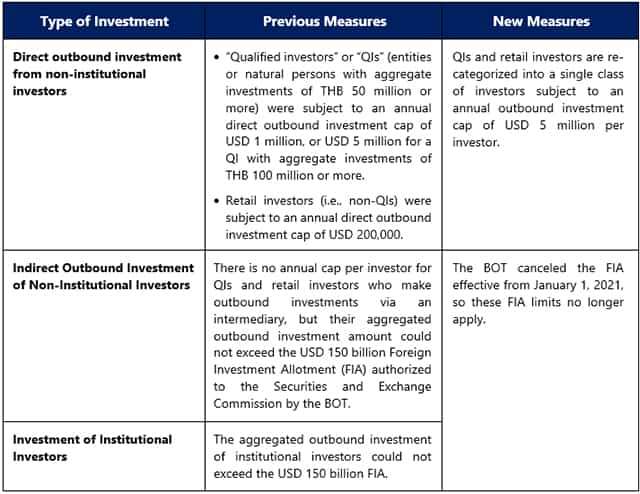 Types of Investment Products
The previous FX measures allowed investors to process FX transactions for investment in various types of inbound and outbound products; however, inbound products were limited to only debt instruments (e.g., bonds and structured notes) issued in foreign currency. The new FX measures expand the scope of products to include all types of investment products that reference foreign variables, such as foreign stocks, exchange traded funds, commodities, gold futures, and foreign indexes.
FX derivatives and other investment products (e.g., endowment life insurance, unit-linked life policies, and universal life insurance) are still open to outbound investment.
Foreign Currency Deposit (FCD) Accounts
The BOT also amended the requirements pertaining to foreign currency deposit (FCD) accounts. Previously, an FCD account for investment (i.e., portfolio foreign currency deposit) had to be separated from investors' other FCD accounts. Separation of FCD accounts is no longer required, and a single FCD account can now be used for any transaction permitted by the BOT.